Can You Find Bible Heroes?

What would Jesus and other children of his time have learned about his heritage? Can You Find the Bible Heroes? introduces the Old Testament stories parents of Jesus' time would have told their children.

Contents
Introduction
Hidden in Every Picture
Part One: Searches
Search 1: God Creates the World
Search 2: God Saves Noah and Noah's Family and the Animals
Search 3: God Calls Abraham to be the Father of his Chosen People
Search 4: God Leads Joseph and the Children of Israel into Egypt
Search 5: God Chooses Moses to Lead His People out of Egypt
Search 6: God Appoints Joshua to Lead the Israelites
Search 7: God Picks "Judges" to Help His People
Search 8: God Accepts Ruth as One of His People
Search 9: God Chooses David to Unite the Tribes of Israel
Search 10: God Allows Solomon to Build a Holy Temple
Search 11: God Sends Jonah to Nineveh
earch 12: God Chooses Esther to Help His People
Search 13: God Completes His Work of Saving His People
Part Two: Parents Guides
Glossary
Sample Parent's Guide: Can You Find Jesus?
Search 1: God Creates the World
After looking over the picture, tell your children that before God created the world there were only God the Father and God the Son, who shared their love through the Holy Spirit. Explain to your children that God understood that love was good and knew he had a lot to share. So God created people, including your children, so he could share his endless love with them. Also explain to your children that God expects us to share this love with those in our lives (parents, grandparents, brothers and sisters, neighbors, teachers). Finally, explain that love is unusual because the more you give away, the more you have left to share.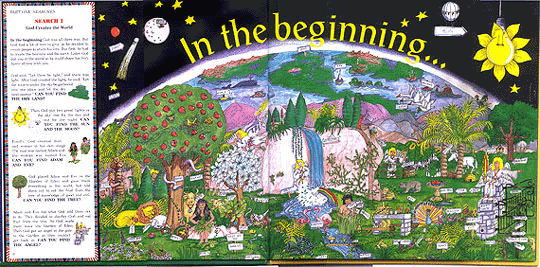 EXCLUSIVE